A long time ago when I was about eleven years old, I remember visiting the young married couple that lived across the hall from my Grandmother. As soon as I walked into their living room, I was hit with an explosion of red and black decor. Their decorating theme inspiration came from Spain. You could almost hear the castanets and see the Flamenco dancers.
When I left, I told my Grandmother how "neat" it was to decorate with lots of red.  She replied, " Be careful with red. It makes people fight".  Is that true? Granted, there was a lot of yelling going on over there, but can we really blame it on the red wall-to-wall carpet, red sofa and black and red curtains?
Red is a powerful color. Most people use it sparingly because it can take over a room. However, some people use reverse decorating with bright furniture. Instead of neutral carpets, curtains and sofas accented with bold  pillows and throws, some choose a bold sofa as their major splash of color. I decided to shop around and see what was out there as far as red sectional sofas go.
The Bobkona Vegas Is So Futuristic It Might Be Out Of This World

In respecting individual style, I can mention that this design is only going to appeal to a certain group of people. Does this remind you of that vintage cartoon called the Jetsons? In a funny way, this sectional is both ultra-modern and 1950's retro all in one.
What I Like: The red upholstery is more muted so it doesn't scream fire engine alert. If you have small pets like Guinea pigs or lizards, they can easily be retrieved under the sofa. Cleaning under this one would be easy if you had bare wood floors.
What I Don't Like: The flatness of the seat cushions isn't my cup of tea. Trying to reach a side table might break your ribs. The legs look like pieces of hardware that were put on as an afterthought. The side flaps remind me of an airplane and I am afraid of flying.
The Little Bobkona Modular With Ottoman Is Cute

Here we have a compact design made in a classic shape. This very linear silhouette attracts people who gravitate towards the traditional in home decor. I think this is your basic sofa style; unpretentious and easy to work with. The only attention-getting bells and whistles on this model is the red color.
What I Like: If you read through any of the other articles on this site, you will know that I mention liking sofas that have "real arms" a lot. I find straight arms with a little height perfect for laying back with a book. I think the petite size makes it cute.  The red fabric makes it look more designer.
What I Don't Like: The throw pillows used in this example are a bit much for my taste. Red and brown remind me of a hamburger with ketchup. I must be hungry 🙂
The Derrikke Tufted Sectional By Hokku Has A Secret Surprise
Here we have your bright tomato red, in-your-face, pay-attention-to-me sectional sofa design. Wow. It really shouldn't be a surprise that people who are attracted to this fiery shade enjoy the attention of others. Can we say extrovert extraordinaire?
What I Like: What I find admirable is the bravery of attempting to create a room around a shade this bright. The tufted upholstery reminds me of the gorgeous interiors of classic vintage cars. People are definitely going to comment when they come into the room.
What I Don't Like: Something about it looks very uncomfortable; perhaps the low head rest area. The slim seating section next to the giant chaise part looks slightly out of proportion. What's the secret? The head rest cushions are adjusted by something called a Pneumatic gas lift. If you enjoy learning about technical stuff, here's a good article about how gas springs work.
 The Atlanta Convertible Sectional by Gold Sparrow Is The Mix Master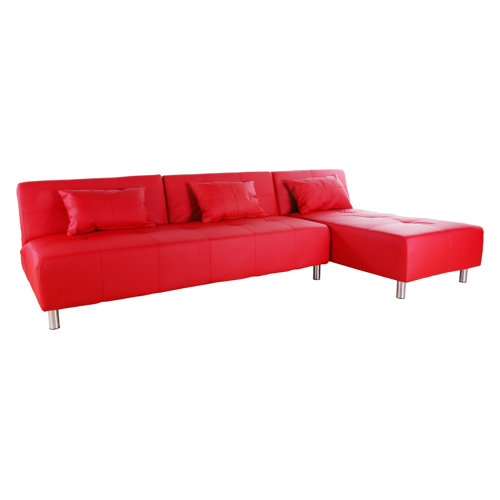 It's amazing how many styles of red sectionals are out there online. We normally don't think about having a career as a sofa designer, but somebody has to do it.
Whoever created this model tried to cover as many bases as they could think of.
It's a sectional that becomes a chaise that becomes two single beds that becomes a double futon.
What I Like: I like the concept of this model. Not everyone has space for a sectional and a bed in the same apartment. There are millions of people in dorm situations or tiny one-room studios that need to squeeze out the most livability from every piece of furniture.
What I Don't Like: You know what I am going to say. It has no arms.  Nap time looks like it would be a slippery proposition. The shiny upholstery reminds me of parachute fabric or those quilted jackets people wear in the rain. Surprisingly, although this sofa is a hot color, I get a cool vibe from the chilly metal legs.
The Channel-Tufted Bonded Leather Sectional By Homelegance Looks Classy-Casual
It's nice to see that manufacturers make red sofas in many variations of the color. This model has a warmer subdued appearance compared to some of the others on this page.
Choosing a brick-red lets you have a little color in your room without going to over the top. It is a traditional shade. It reminds me of professors and pipes, libraries and to-the-manor-born decorating tastes.
What I Like: I definitely like the channel-tufting on the upholstery. Typically, tufted recesses can be magnets for lint on fabric sofas. However, because this one is bonded leather, lint would just slide away. This style says family casual, yet has a certain element of class.
What I Don't Like: The big rectangular ottoman parked in front of the sectional is an idea that doesn't personally appeal to me. The sloping arm cushions don't look as supportive as the rest of the sofa. With a shade like this, it would be challenge to create a balanced look that is neither too feminine nor too masculine. Read what other people are saying about it on Amazon.
Addiya 3-Piece Set With Chaise And Ottoman By Roundhill Is Warm And Spicy

The first time I saw this picture, I immediately thought of exotic spices from the far east. It has an unusual undertone of cinnamon even though it is technically a red sectional.
The style has both a traditional vibe with the tufted upholstery, yet has a noticeable contemporary shape around the bottom and sides.
What I Like: I think this color is beautiful. Because fall is my favorite season, this sofa reminds me of long walks outdoors in October, falling leaves, spiced cider and bobbing for apples.
What I Don't Like: The main thing that bothers me about this design is the side where the chaise sticks out. It leaves no option for lighting on that end other than a standing dome lamp. Serving company might be challenging as there is no place to put down a drink on that side.
Unfortunately, choosing a sectional in a bright primary color like this one means that you need to be happy with it for a long, long time. Unless you have nerves ( and eyeballs) of steel, you will be limited to the types of accessory colors that look nice with your red sofa. Unlike a regular sofa, slapping up a slipcover for a huge sectional isn't a cheap option if you get bored with your decor quickly.
It was interesting exploring some of the differences in the shades of red sectional models from various manufacturers. We certainly don't lack choices, do we?  *Update 3/2016: No longer listed on Amazon by Roundhill Furniture.
The Hokku Tufted, Bobkona Vegas & Modular and Atlanta Covertible can be found at Wayfair.com.